This memorial website was created in the memory of our son, Andrew Robert Keneth Whitfield who was born Sleeping at 41 weeks+5 days in United Kingdom on September 03, 2005. Mummy and daddy and your big sister Ellen will remember and love you forever. Sleep well little one, until we are together again you will always be in our thoughts and hearts.
NEW PICTURES ADDED:
Happy Birthday Andrew, five years old today
I wish that you were with me, so much I have to say
I want to say I love you and will forever more
And that I don't have 3 children Andrew, I really do have four.

So to my eldest son I send my love and heart
You are so precious to me, although we are apart
I often feel you near me, maybe you're not too far away
And will know I am thinking of you on this very special day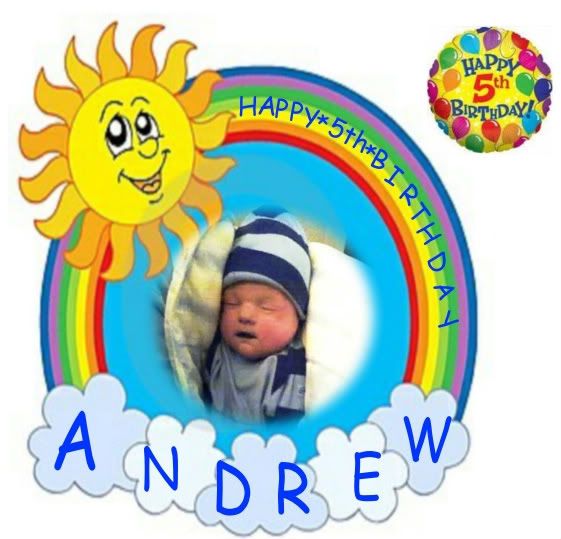 Calling all the angels--
It's a special day today!
For Andrew is turning 5 year's old!
Here's what he has to say:
"Mummy please dry all your tears;
I know you miss me so.
And if it had been up to me
I'd never have chosen to go."
"For I knew that you would miss me
And the things that we could do
And I wish I could have stayed on earth
And lived down there with you."
"But Mummy now I'm well and whole;
I sing and play all day
With all the angel boys and girls
Who've come to heaven to stay."
"Lord Jesus holds us in His arms
And tells us of His love;
He knew that we were hurting--
That's why we came above."
"I love you Mummy every day;
I send you kisses too.
And some day you will join me here
And I'll always be with you."
"I've got to go--the party's on!
We'll sing and dance and play.
But I am always in your heart
And never far away."
"Please find a way to celebrate
Even if you cry;
Perhaps you'll send me some balloons
Soaring to the sky."
"And I will know they came from you
And I'll be flying near.
I send you love and kisses too.
I love you mummy dear.
Do you know how hard it is
To hold a baby who doesn't cry?
Do you know how hard it is
To tell that baby Goodbye?

Do you know how hard it is
To look at an empty bed?
Knowing your child should be there
Resting her sleepy head?

Do you know how hard it is
Feeling you're to blame?
And no matter what they tell you
You'll always feel the same.

Do you know the heartache
Knowing she's gone for good?
And feeling that you didn't
Do all the things you could.

Do you know how hard it is
To hear that it's Gods will?
Do you know the emptiness
When your child is born still?

Unfortunately I do

Four long years without you, four years we've been apart A long, long time without you, little Angel of my Heart And now the snow is falling and Christmas comes again And still my heart is missing you, life will never be the same. You hold a very special place my 1st born eldest son How much I wish that you were here now Christmas has begun I send my love my darling, more and more each year But it's not the same my precious,, I just wish you were HERE.
14/9/06
Andrew is a big brother again.
Louis Zac Whitfield born
the 30th of January
2009.
Your special 3rd birthday poem.
We may not be able yo see you today,
or watch your precious face
Nor can we be with you
as you cut your birthday cake
We can not buy your presents
Or witness your surprise
at all the special birthday treats
to appear before your eyes.

But not for one moment
will be forget your special day
We will be thinking of you
as we work and as we play
So watch out for the balloons we send
They are sure to come your way
Sent with lots and lots of love
To celebrate your birthday


This is a picture of Andrew that was drawn by a medium. He looks so like his big sister.
My angel baby is growing up. I have just found this picture and now Im in tears. You are not a baby anymore, you are a little boy, a little boy that I dont know. I should know everything about you.

We love you so much.



MY SPECIAL FRIEND KAYLEIGH

Mummy, when I arrived here, two whole years ago

I was met by a special girl who she said you probably know

She said we were related in a very special way

Her Granddad and mine are brothers, that's what I heard her say


She took me by the hand and was so sweet to me

She told me, for a while, this was how things had to be

She left her Mummy too you see and knew how much you'd cry

Her Mummy cried too she said, when she had to say Goodbye.

But she told me she'd stay with me and help me on my way

We're friends now she said and that's how it will stay

She get's cross sometimes when I run off with her toys

But then she laughs and says "well boys will be boys"



She has two little brothers and now I have one too

We watch them everyday, just as I watch you

So don't be sad my Mummy when you think of me

Know that I am happy here with my special friend Kayleigh




Written by little nanny.
please visit Andrew's cousin kayleigh
http://kayleigh-erceg.memory-of.com/


Andrew you are 2 now,

what a big boy!



A VERY HAPPY BIRTHDAY TO A SPECIAL LITTLE BOY
WE HOPE YOUR DAY IS FULL OF FUN WITH PLENTY TO ENJOY
SO MUCH WE WISH TO SEND YOU, SO MUCH WE WANT TO SAY
SO MANY CUDDLES WE CANT GIVE, UPON YOUR SPECIAL DAY
BE HAPPY LITTLE ANDREW, WATCH OUT FOR THE BALLOONS WE SEND
SENT WITH LOTS AND LOTS OF LOVE FOR A SPECIAL LITTLE MAN.


with lots of love little nanny.



HAVE A LOVELY PARTY BABY WITH ALL YOUR FRIENDS, DONT FORGET TO INVITE GREAT GRANDAD.



WITH LOADS OF LOVE MUMMY DADDY ELLEN AND OLIVER.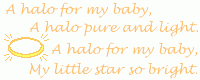 ANDREW THANK YOU FOR ALL THE FEATHERS YOU HAVE SENT ME.
Love from Little Nanny
XXX




THEN THE BABY OPENED HIS EYES, AND LOOKED UP INTO THE ANGEL'S BEAUTIFUL FACE, WHICH BEAMED WITH HAPPINESS, AND AT THE SAME MOMENT THEY WERE IN HEAVEN, WHERE JOY AND PEACE REIGNED. THE BABY RECEIVED WINGS LIKE THE OTHER ANGEL, AND THEY FLEW ABOUT TOGETHER, HAND IN HAND.
BY HANS CHRISTIAN ANDERSON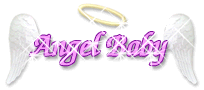 THANKYOU FOR YOUR VISIT TO ANDREWS SITE
PLEASE LIGHT A CANDLE SO WE
KNOW YOU HAVE BEEN.




I have a little Grandson, who means the world to me
He's living with the Angels and is as special as can be
And even though he's up there, playing in the clouds
He's still my precious Grandson and I am so very proud
His picture takes pride of place on my living room wall
Ready to be admired by all who come to call
I know I can not hold him, or bounce him on my knee
But only have to close my eyes, his little face to see
I never will stop missing him and wishing he were here
But sometimes I feel, indeed I know that he is very near
So play happily little Grandson, you will never be forgot
I love you so and always will, though I miss you such a lot .
(FROM ANDREW'S LITTLE NANNY)




Andrew was a much wanted baby from the start. I still remember the day we took the test, it was December the 17th 2004. We couldnt have asked for a better Christmas present. Everyone was so excited
We decided to wait until the 12 week scan to tell Ellen as she was only three. I have never seen her so excited. When we showed her the scan picture, she asked if it was our baby, when we told her it was she jumped around the room.
She so wanted to be a big sister.
I had no problems at all through the whole pregnancy, and the time seem to fly by. The hot summer days were not nice but I thought it would all be worth it when I had my baby.
Before long my due date the 22nd of August had come around. Ellen was five days late so I was expecting Andrew to be late as well.
I reached 41 weeks and still no sign of him, but he was still moving and the heart beat was still strong so nobody was worried.
At 41 weeks and 3 days which was the 1st of September I had a midwife appointment. Again the heart beat was strong and Andrew was still moving about. In this appointment I was told if he had not arrived by the following Tuesday I would be induced, this was something I was dreading as I had planned to have Andrew at home. The midwife said she would come and do a sweep and stretch, the next day to try and get things moving.
The day Friday the 2nd of September will be a day I will never forget. I woke up that morning and I was having a contraction. I was so pleased I would be meeting my baby soon. Andrew was still moving at this time. The midwife turned up just after five to do the sweep, I was still having contractions, but they were not strong. The first thing she did was check his heart beat. She said it was a bit slow at 104 beats a minute, but she didnt seem worried at this point. She asked me to go to the hospital to be monitored just to be on the safe side.
The hospital is a ten minute drive away, and at some point in that ten minutes, my darling little boy died.
I knew by the time we got to the hospital his heart had stopped, I just had this funny feeling, so I was not suprised when they told us.
The labour was speeded up, my husband, mum and sister all stayed with me and Andrew was born on Saturday the 3rd of September at 5.01 in the morning. He was a big boy, his weight was 8lbs 4oz and he was 58 1/2cm long, He looked just like his big sister.
No reason was found to why my baby could not stay with us.



Rock-a-Bye, Sweet Angel....

Shelter him, Dear Lord, I pray
and keep him in your care...
show him heaven's beauty
as laughter fills the air.
***
Give him all my love to keep,
and sing him lullabies...
Rock-a-bye sweet angel,
sleep well in heaven's skies
***
May the love of God enfold you,
as He cradles you tonight...
while cherubs dance by softly,
with their halos glowing bright.
***
Rock-a-bye sweet angel,
too precious for this place...
you were here for just a moment,
but your memory, I embrace
***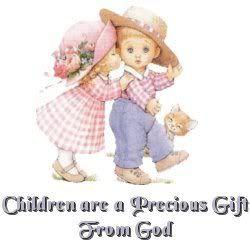 Loves Me xx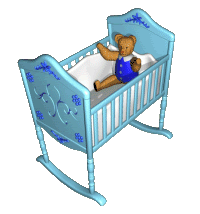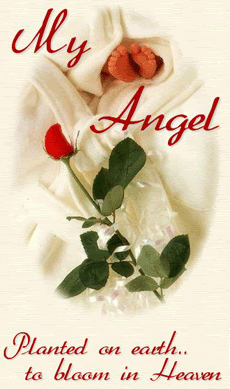 A beautiful little angel showed up to Heaven's gates confused and unknowing the plan that for them awaits. Then another little angel walked up and took their hand and said "Please don't be sad you left, you're in the Promised Land." "I'm glad to be here but I do not think I was to go, Perhaps there was a mistake, for my mummy wanted me so. The little greeting angel gave a sweet smile and said "My mummy wanted me too, but to Heaven I was led. You see, we do not get to choose when on earth it's time to go. He gaus life, love and joy and a mother's womb to grow. The lord still needs new angels to guide down on earth . To watch over , comfort them, and help them see their worth." "Is there still a way that I can sleep in my mummy's bed?" The greeting angel grinned and said, "that luxury you'll keep. I visit my mummy nightly and softly sing her to sleep." The little angel replied, " then I think I'll like it here. I'll visit my mummy nightly and weaken her pain and fears. I love her and will keep her safe at night and in between, and let her know with a sweet memory that she is still with me." The greeting angel gave her new friend a big hug and said, "Untill our mummy's meet us here, let's be best angel friends." "Okay." said the new angel, "that sounds good to me." Then the angels sat and played keeping their mummy's in sight, humming the tunes to the song they would sing to their mummy's tonight.





Written be a friend (with inspiration from Andrew)

I'm with you in the morning
In the dew of new born flowers
Dancing in the sunlight
playing in misty showers
I'm twirling with the wind
Or laughing with Jack Frost
I'm with you, your small angel
I'm here, I am not lost

You'll catch me in your thoughts
You'll see me in a smile
In dreams I'll lie beside you
I'll hold you for a while
I'll be catching rainbows
To wipe away your tears
I'm with you, your small angel
I'm here to soothe your fears.

I'm with you in the evening
As the sun slips from above
I'm dancing in the light
Bringing you bright love
I'm laughing with the moon man
As he begins his nightly climb
I'm with you, your small angel
I'm with you all the time.

So be strong for me mummy
As I will be for you
I am your little angel
There is much for me to do
Your life is blessed now mummy
For I am by your side
Forever and for always
I am your angel guide.



.











TINY FLOWER, LENT NOT GIVEN.

TO BUD ON EARTH AND BLOOM

IN HEAVEN




Our parting is a moment compared to eternity.




IF TEARS COULD BUILD A STAIRCASE
AND MEMORIRES A LANE
I'LL WALK RIGHT UP TO HEAVEN
AND BRING YOU HOME AGAIN.

SOME PEOPLE ONLY DREAM OF ANGELS WE HELD ONE IN OUR ARMS.






SENDING YOU ALL OF OUR LOVE



TWO LITTLE BROTHERS BORN IN LOVE
TWO LITTLE BROTHERS SENT FROM ABOVE
ONE LITTLE BROTHER HERE ON EARTH
ONE LITTLE BROTHER RETURNED AT BIRTH
TWO LITTLE BROTHERS BORN A YEAR APART
TWO LITTLE BROTHERS LOVED FROM THE START
ONE LITTLE BROTHER WITH US WILL STAY
ONE LITTLE BROTHER FOREVER AWAY
ANDREW HOW WE LOVE AND MISS YOU EVERY DAY
OLIVER WE ARE SO GLAD THAT YOU ARE HERE TO STAY
TWO LITTLE BROTHERS NEVER FAR APART
YOU ARE JOINED FOREVER IN MUMMY & DADDY'S HEART


What are you doing this Christmas, little Angel of my love?
Is their snow where you are, do you need your hat & gloves?
Are you singing Christmas carols, are you playing in delight?
While all around you glistens & the stars are shinging bright?
Does Father Christmas visit our children up above?
Does he tenderly fill their stockings with all our hugs & love?
Please Father Christmas, don't lose your way
Send our love to our Angel on Christmas day.
Special little Angel playing in the skies
Do you have a Christmas twinkle shining in your eyes?
You know how much we miss you, each and every day
From all your family this Christmas, love & hugs we send your way.

By little Nanny.





graphics4you05




www.louiselodge.co.uk
swirly-pink-lipgloss

disgalaxy



A
is for angel, for that is what you are


N
is for nearly, so near yet so far

D
is for darling, you parents delight
R
is for rosy, your checks were so bright

E
is for empty, we miss you so

W
is for wishing we could see you grow.

SOME HAVE A LIFETIME, OTHERS JUST A DAY, LOVE
ISN'T SOMETHING, YOU MEASURE THAT WAY

MY HEAVEN IS A LONELY PLACE
THE STRETS AREN'T PAVED WITH GOLD
MY HEAVEN IS A ROCKING CHAIR
AND BABY ANDREW TO HOLD


THIS WAS WRITTEN FOR US BY ANDREW'S LITTLE NANNY




Another Christmas without you, it should not be this way
You should be here, with us, laughing as you play
We should be able to show you the pretty Christmas lights
We should be able to watch your eyes, dancing in delight.



And yet and yet our little one, who was not ment to be
Your Christmas will be magical, if only we could see
You have Angels to sing for you, we have nothing quite so fine
Our Christmas lights are inferior to the ones that you see shine.



So be happy now our precious babe and know we love you so
Look down on us your family as we celebrate here below
Cards we cannot send you, your hand we cannot touch
But always remember little man, we love you very much.

Happy Christmas Andrew
with love little nanny
xxx


Well little one christmas is coming again. The third since you left us. I was looking forward to this year for the first time in three years, but now its getting closer its getting harder again. You would have been so much fun this year. Into everything. I should have three children to buy for. You will always be part of our family and you will always be missing. We will never be the same without you. You took part of mummy with you the day you left. I will never be the same person again.

Ellen always includes you in everything she does. I cant say to her I have two children as she always changes it to three, bless her. She is such a brilliant big sister. She would have loved you to stay as well.


We all love and miss you loads!
Happy christmas to my special boy
All my love mummy.

This Christmas, a frozen tear I'll shed
For all that we've missed out on, for all we've never had
A frozen tear will linger and glisten in my eye
So many missing memories and still I wonder why.

Christmas is a special time but since you went away
So much I'm missing out on, so much I like to say
I never will forget you my special little one
Happy Christmas Andrew, my precious baby son


Merry christmas to my special first son in heaven. Always rememberd never forgot.

You will be missed tomorrow more than normal. I wish I could give you a huge christmas hug.

Love and miss you always